St. Nicholas' Church, Barry
When exactly the old St. Nicholas Church was built is not known. The earliest reference we have of it is 1254 and its records go back to 1620. It may have served as a chapel to the Barry Castle erected at the end of the 11th century by a follower of Robert Fitzhamon, the Norman conqueror of Glamorgan, who landed at Porthkerry in 1093. Whether this was so or not, the Celtic Church was already firmly established in this locality well before the Normans. As early as the 6th century, Llancarfan and Llantwit Major were famous as centres of religious teaching. Celtic churches existed at Merthyr Dyfan (c.600 AD) and Cadoxton (c.800 AD). In the 7th century a Celtic saint named Baruc built a chapel on Barry Island which became a place of pilgrimage and remained so down to the Middle Ages.
Throughout the centuries, Barry remained a small rural parish which, until 1674, was linked as one benefice to the adjoining parish of Porthkerry. In 1622 it had only 14 houses and among these were listed Castle Farm, the farm of Cwm Barry, Austry Farm near the edge of the old harbour and the farm at Cold Knap called "Cold Loole Farm". The living was styled a Rectory from 1810 when it received a grant of £200 from Queen Anne's Bounty. In 1839 the 2 parishes of Barry and Porthkerry were re-united and subsequently referred to as "the consolidated Parish of Porthkerry with Barry".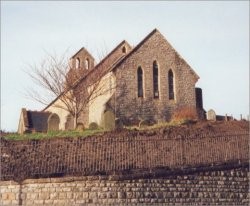 By the last century the old St. Nicholas Church had become so decayed by the ravages of time for its incumbent, the Rev. Canon E.E. Allen, to seek for its demolition and the building of a new church on the same site. A new church was consecrated on 22nd June 1876. It cost £900 and seated 120, and was so it seemed then, large enough to accommodate the needs of the parish. (The 1881 census showed Barry to be a village of only 85 persons).
From 1884 onwards the local population increased dramatically as Barry, with astonishing rapidity, developed into a new seaport. The new church of St. Nicholas proved to be too small virtually as soon as it was built. A new bigger church was needed for the parish. Hence the building of All Saints Church.